Our Assessment Sheets include a vast number of descriptors so that the PE Teacher can now assess their students' knowledge, understanding and ability to perform skills and actions within certain sports.
The assessment sheets are available online which allows students to be matched withobjectives and achievements instantly via our online assessent platform. All assessment input can be viewed and evaluated instantly.
A student's resilience, performance, creativity and competency within each sport enables you to assess, monitor and moderate the student's progress over a topic, term, key stage or aspect of the game. By using these sheets the teacher and department has a focused way of breaking down each skill or concept and have a means of moderating and standardising progress.
The PEOffice has a very extensive range of Assessment Sheets that can be used to track progress on and off the field.
These include:
Student Achievement and Mastery statements (below)
Once a student has finished filling in these sheets then automatically graphical data is produce with a spikey profile of the students performance to each
statement
achievement
topic
skill
knowledge
or task
Students can also evaluate via their learning path what is expected from them. the students also add comments which is fed into the teachers for their review previous to reporting on a students progress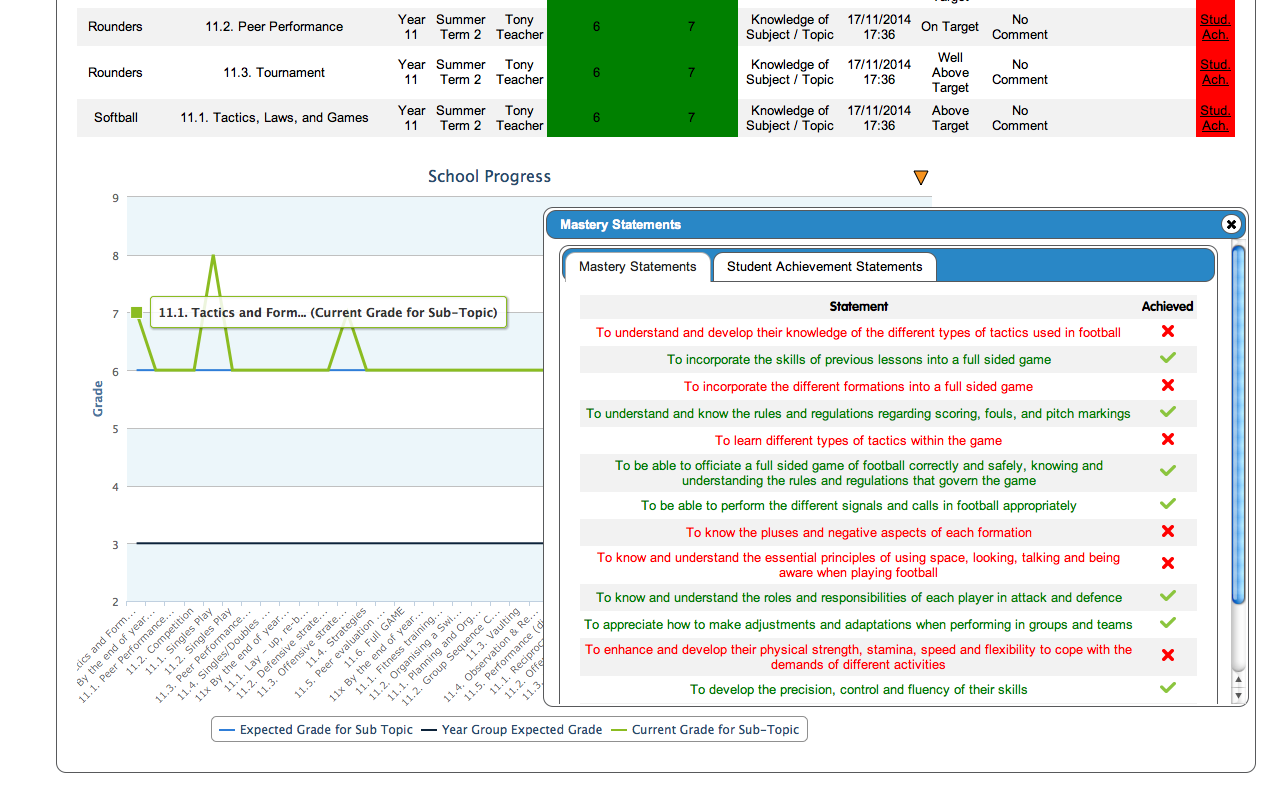 This is done a s RAG syteme but can be changed to any system you need
Our hard format assessment sheets come in a range of sheets such as those below where students work individually or in groups to evelauate, assess and anlyse performnaces in practical aspects, officiating and leading within lessons, drills and games..
These come with a CSV tracking if the assessment package is purchased that corresponds to the achievement and master statements per skill, level, task or topic.
This can be done online or offline and automatically filter into the assessment
Click on the links below to view more examples of our Assessment Sheets and software available:
Please view more examples here.
Call 01909 568 338 for more information upon our beast of a assessment model