Cambridge National / OCR Sports Studies
Do you want any support, guidance or resources to help your students achieve in your OCR Cambridge National Sport Course?
We are proud to announce that we have a range of resources and services to support you including
Guidance with witness statements
Lesson ideas & resources
Online lesson and presentations
Training workshops to work with your team
Webinars for all attendees (6 sessions)
Support on how to standardise your assessments
Support on how to get through the course in a year
Tracking and marking tools.
Online virtual support
Weekly and monthly webinars and seminars
OUR OFFER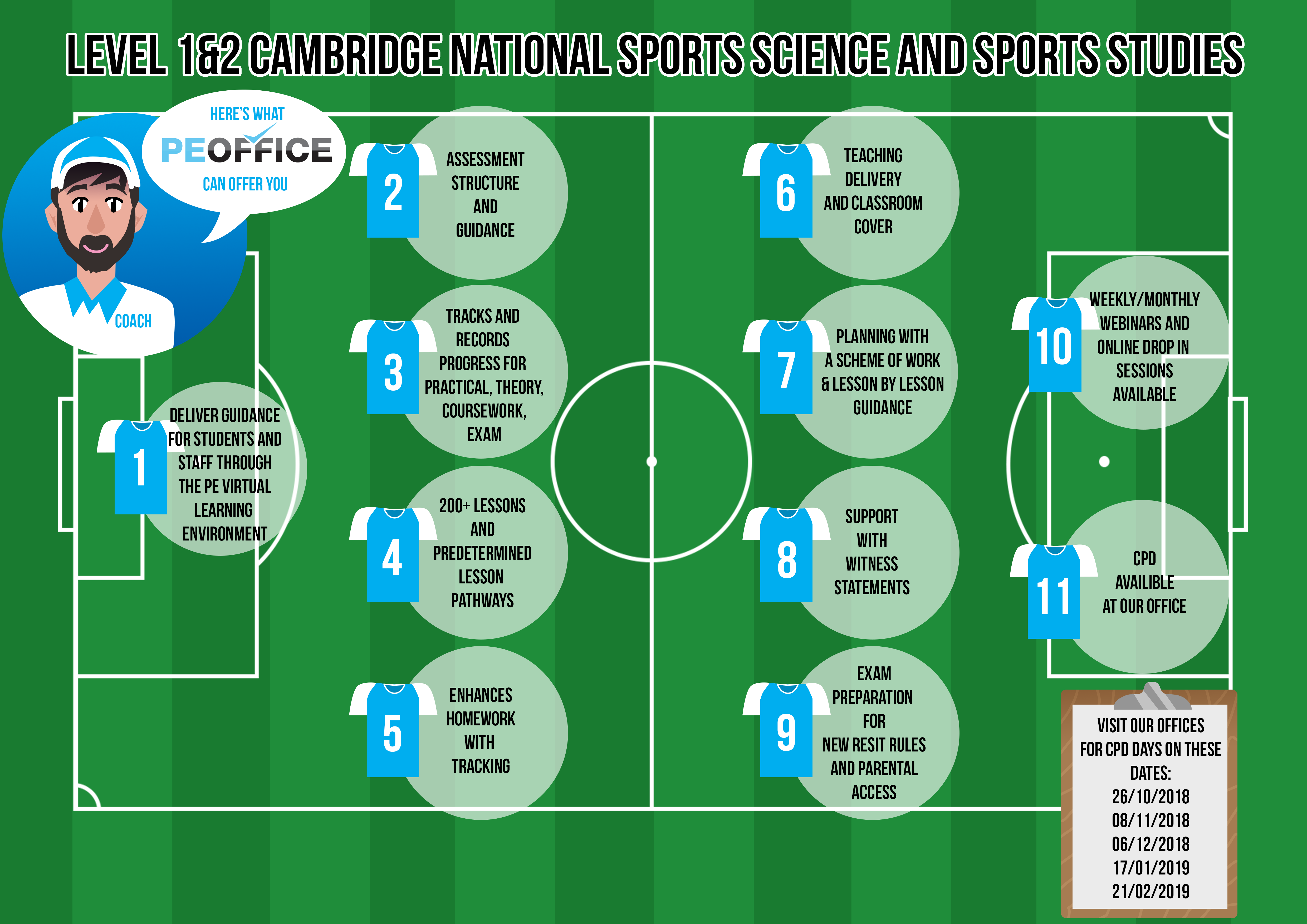 We can provide a bespoke package which suits your needs at a cost affordable to your budget or we are offering:
Online Content
We have extensive online elearning lessons, puzzles and quizzes available for the Cambridge National Sports Science and Sports Studies
| | |
| --- | --- |
| Sport Science | Sport Studies |
| Reducing the risk of sports injuries | Contemporary issues in sport |
| Applying principles of training | Developing sports skills |
| The body's response to physical activity | Sports leadership |
| Sport psychology | Sport and the media |
| Sports nutrition | Working in the sports industry |
| Technology in sport | Developing knowledge and skills in Outdoor Activities |
| Award : 60 GLH Certificate : 120 GLH | Award : 60 GLH Certificate : 120 GLH |
| | |
| --- | --- |
| | |
| Lesson that are compatible on any device | Locked down exams |
| | |
| Keywords, plans and tests | Puzzles |
Training Available and Training Dates
We are offering an introduction and advice day to the course at our offices on the following dates:
6TH DECEMBER,, 2018
17TH JANUARY, 2019
21ST FEBRUARY, 2019
7TH MARCH, 2019
21ST MARCH, 2019
11TH APRIL, 2019
2ND MAY, 2019
23RD May, 2019
ADDITIONAL SESSIONS TO BE CONFIRMED
TIME
9am – 1pm
2pm till 5pm
Attendance for
Attendance to 4 hour course only
ONLY RELEVANT If you subscribe to the PE System system

INTRODUCTION TO THE COURSE

- THE OVERVIEW

Session One

Breakdown of specification
Overview of module
Sports Studies / Sports Science
Overview to Modules delivered
Qualification
Assessment
Paper work
Scheme of Work

The online system
Getting stated online system
Tracking, reporting, system
Administration
Webinars
Seminars
Virtual Support
Please note: First come first serve Basis
To book on these events please click here
However, if you would like to attend the sessions and webinars available for introduction to course, guidance for practical aspects, assessment and standardisation please click here
COST FOR COURSE, TRAINING and WEBINARS
It is £125 per course per person. 1 person = £125 and an extra staff is £75 per school. This includes access to the following webinars of your choice that our leader will deliver online in the topics of interest:
Assessment
Re - sits
Sports Science
Sport Studies
Standardisation
Witness statements
Statements workshop
Moderation
Homework and Revision
Tracking, reporting and online submissions
Mock Exams online and platform diagnostic tools
Bespoke the platform for you
Final exam
PE Office Online
You can pick and choose what webinar you wish to attend. All webinars are included in the price.
Subscription for the learners - What does this entail?
The theory subscription is priced at £4 per learner for :
24/7 365 access to the platform
200+ lessons
Mock exams
Diagnostic tests
Puzzles, quizzes and tasks for homework and revision
Video analysis software
Subscriptions for teachers
Free subscription and accounts for your department with access to all the above area PLUS
all our theory sections on the PE VLE
diagnostics for exams, lessons, homework
group analysis
question breakdowns
assessment submissions
sections for assessment, guidance and reporting
online support
weekly and monthly webinars
If you want further information and for one of the PE Office team to contact you then please fill out the form below.