Diagnostic Exams and Analysis
PE Office enables you to use our own diagnostic PE exams that have been written by educational professionals in this field or we can create your own diagnostic exams just for your and use our secure and locked down exam application. This great tool enables you to have diagnostic tools and exams that can help you test the level of each learner within Physical Education.
Our diagnostic PE exams also enable you to:
Class set
Baseline test
Track answers and question of students, target groups and cohorts
The diagnostic exams are so powerful because as an administrator they allow you to create a range of questions for your students once completed to have a report so that they can learn from their misconceptions, errors and answers. From here staff, pupils and parents can have a clear insight of the learners:
Level
Strengths
Weaknesses
Feedback needed to be given
An action plan with objectives, individual learning pathway and milestones.
Practical Exams
Within our elearning platform we have created numerous mock PE exams that are ideal for your BTEC PE and GCSE students to practice them on.
We can also offer your students these exams online securely and locked down that can be used as revision, dummy exams, mock exams, or practice exams which could be taken under exam conditions
Our exams can be turned on and off with just the touch of a button, allowing them to only be open within specific bespoke times for your establishment.
Our PE Exam Platform – Overview
Our mock exams offering allows you create and manage online exams for your students with the ultimate aim of providing detailed feedback to be used for revision purposes.
You have the option to use:
your own exam materials,
an exam that we have already created,
or we will create the exam on our system for you.
Mock Exam Platform – The Process
Interested in our online mock exam platform?
Arrange a free online demo of the platform with our team.
Send us a CSV document containing all of the candidate's details.
You can either send us your questions and we will put the exams online or we will set your exam sitting up for you using one of our exams.
Students sit the exam.
We can then mark all of the exam papers and provide you with detailed feedback within 7-14 days or you can mark them.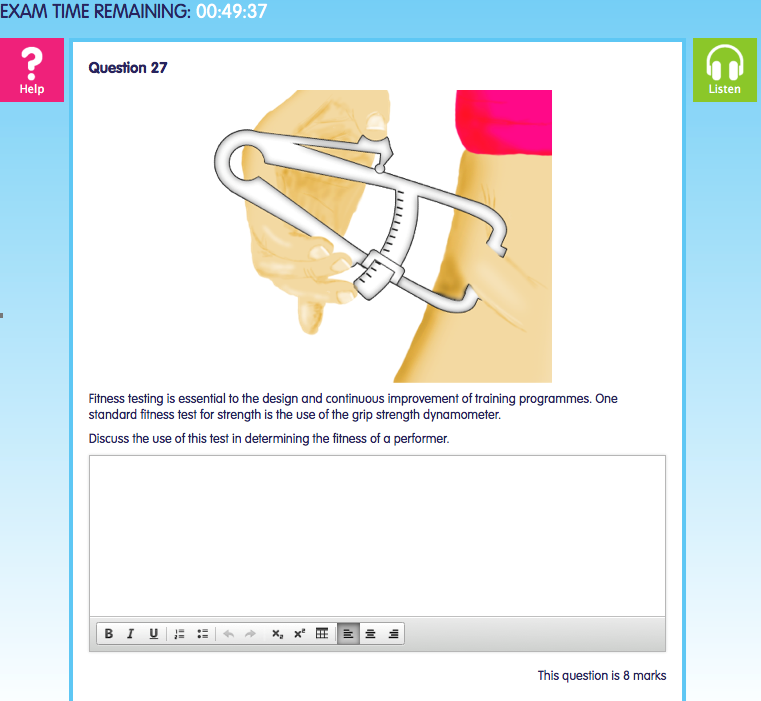 There is the following different types of questions:
free text
multiple choice questions
numerous scenarios
word puzzles
puzzles
fill in gaps
missing words
labelling
spot the differences
graphical tests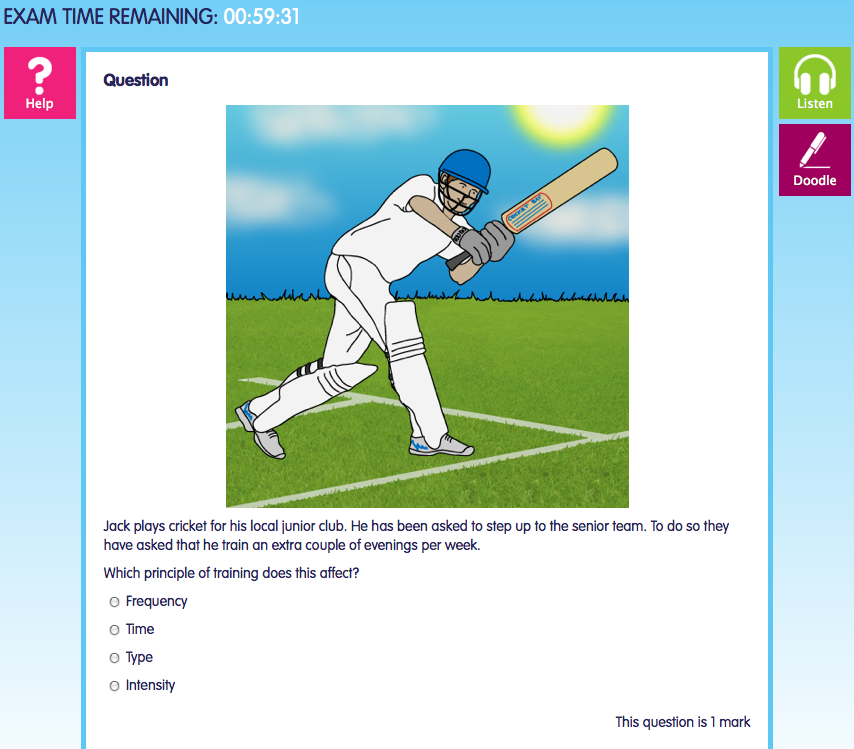 Mock Exam Platform – Students
The user experience of our system for students is something we have looked at extensively. After all, students need to find the system easy to operate in order to benefit from it.
The Features of the Student View:
The layout is clear and concise.
The Question types:

Multiple Choice.
Free Text.
Drags and drops
Puzzles
Illustrations / labelling
Graph Creator.

Different pop-up tools, that can aid the students with answering questions.
A clear on-screen timer that starts as soon as the student starts the exam paper.
The answers automatically save as the student progresses through the exam.
All of our exams can be locked down securely
There is an extensive range of questions available. We can independently mark the exams for you.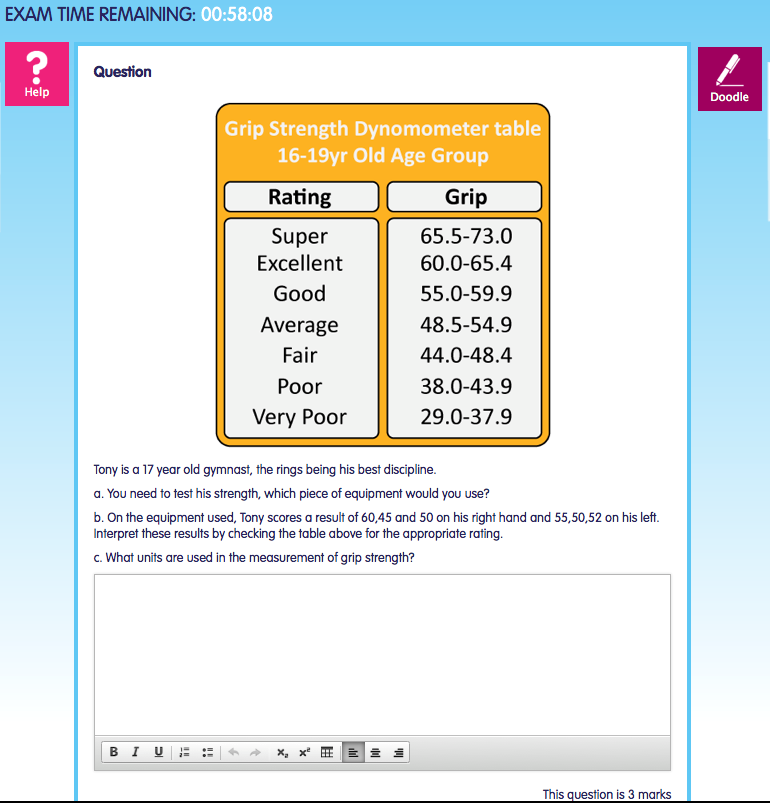 Mock Exam Platform – Feedback
As soon as an entire exam sitting has been submitted, the answer papers will be delegated to our team of markers. We will then mark the exam papers, providing detailed feedback for each answer that each candidate has given. The feedback spreadsheet will then be sent to the school/teacher within 4 working days after the exam sitting finished.
Below is an example of the Mock Exams Spreadsheet:
Arrange A Free Demo
If you are interested in any of the products detailed within the brochure, then why don't you arrange to have a free online demonstration of our products?
FREE DEMO
Call today!
Phone: 01909 776 900