Do you need any support, guidance or resources to help your students achieve in their OCR Cambridge National Sport Course?
USE OUR ONLINE RESOURCES FOR STUDENTS TO WORK AT HOME OR FOR CATCH UP WHICH CAN BE TRACKED & MONITORED!!!!
Here is Our offer: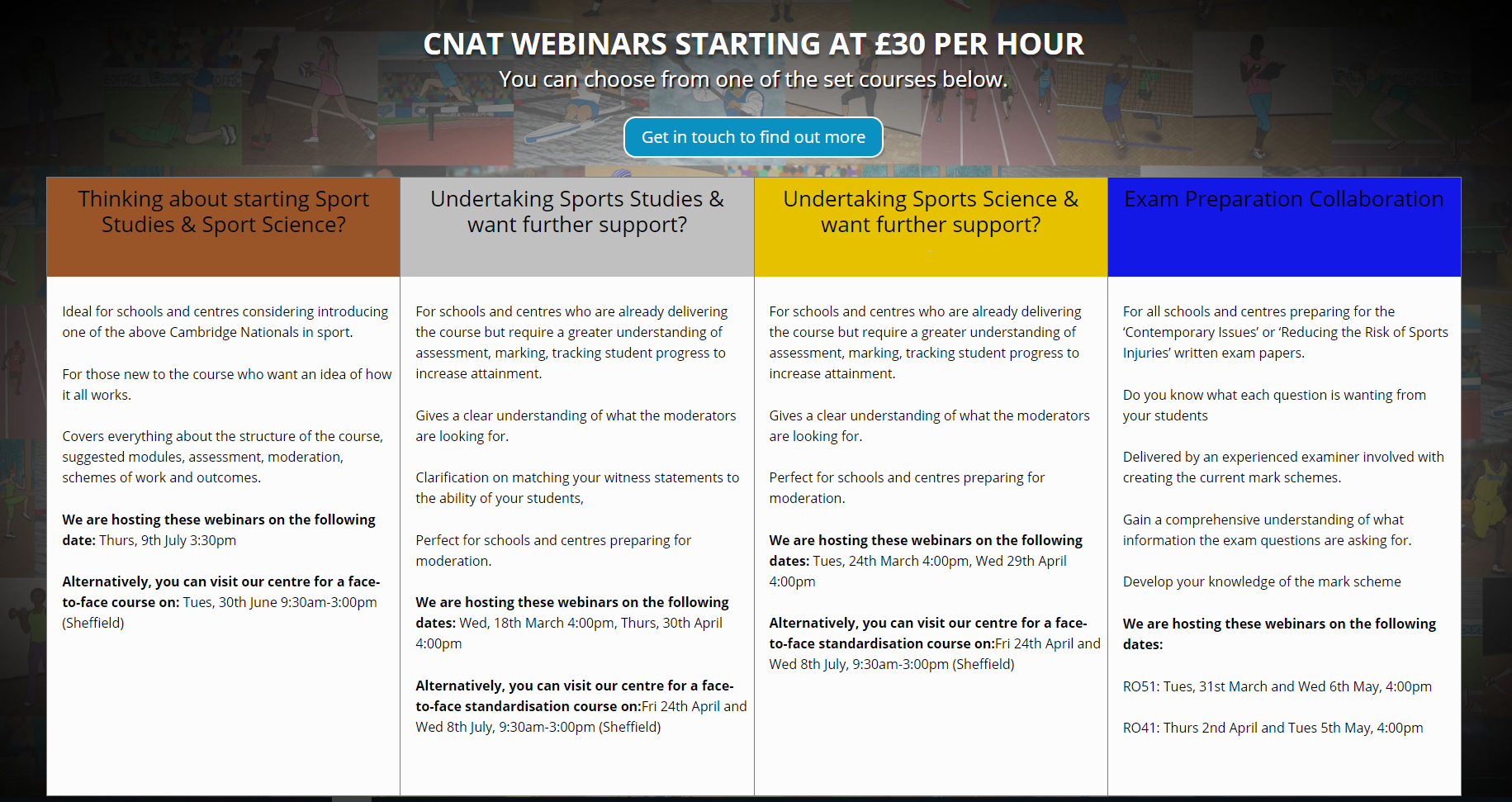 Guidance with witness statement​s
- Learn how to write witness statements to achieve a successful moderation
- Match the statements to the ability of your students
Lesson ideas & resources
- Create successful engaging lessons based on exam feedback that targets specific questions
- Use our bank of pre wrote lessons and examination resources for pupils to learn at home and around their lesson time via mobiles or other devices.
Online lessons and presentations
- We have created hundreds of theory lessons for your students to access or staff to deliver during lesson time or at home.
- Select your own lessons and send out work to students via our platform for them to complete and return back to you.
Bespoke webinars for your department
- Specific training based on your needs
- Delivered on the dates above OR at your convenience during your department meeting time
Support on how to standardise your assessments
- Use our experienced moderators to guage how well you are marking students work
- Learn how moderators mark work and what to expect from samples.
Tracking and assessment tools.
- Use our ready built tracker to monitor students performance and predict their likely outcomes
- Allow students to sit our ready built mock exams and instantly gain feedback on areas they need to improve, supported by our lessons within a click of a button
Webinars and Face to Face Courses
- Our experts deliver webinars for both staff and students to learn the tips and tricks to being successful
- Choose your prefered topics and/or bring your faculty together to cover the issues you are currently facing and want answers to address
TO BOOK CLICK https://pages.peoffice.co.uk/cnat-webinars/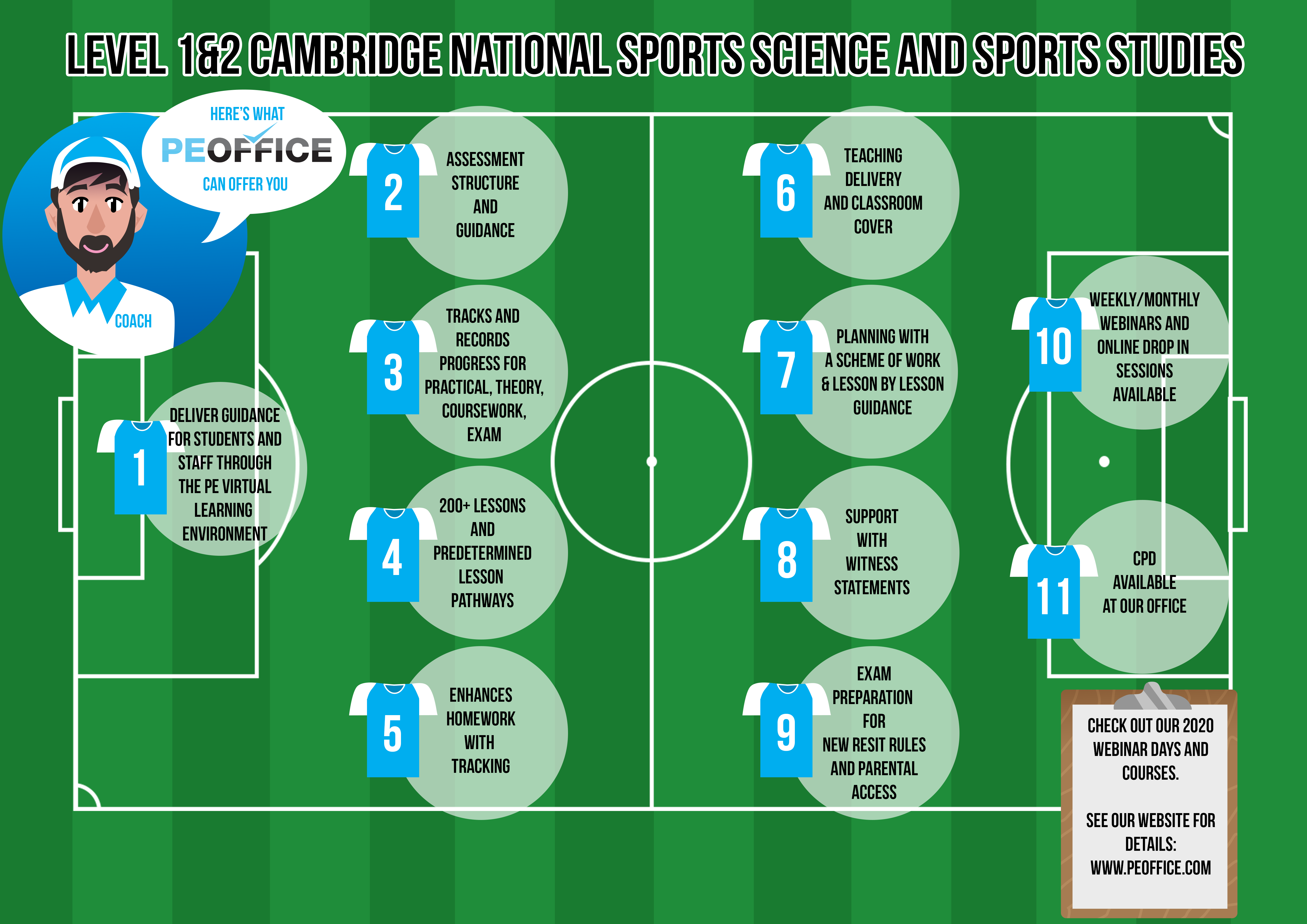 We can provide a bespoke package which suits your needs at a cost affordable to your budget or we are offering:
Online Content
We have extensive online elearning lessons, puzzles and quizzes available for the Cambridge National Sports Science and Sports Studies
| | |
| --- | --- |
| Sport Science | Sport Studies |
| Reducing the risk of sports injuries | Contemporary issues in sport |
| Applying principles of training | Developing sports skills |
| The body's response to physical activity | Sports leadership |
| Sport psychology | Sport and the media |
| Sports nutrition | Working in the sports industry |
| Technology in sport | Developing knowledge and skills in Outdoor Activities |
| Award : 60 GLH Certificate : 120 GLH | Award : 60 GLH Certificate : 120 GLH |
| | |
| --- | --- |
| | |
| Lesson that are compatible on any device | Locked down exams |
| | |
| Keywords, plans and tests | Puzzles |
Training Available and Training Dates
TO BOOK CLICK https://pages.peoffice.co.uk/cnat-webinars/
COST FOR COURSE, TRAINING and WEBINARS
It is £125 per face to face course per person.
Specific Webinar £30.
Bespoke Webinar (ie use as a dept meeting to ask questions and discuss issues faced) £85.
Subscription for the learners - What does this entail?:
24/7 365 access to the platform
200+ lessons
Mock exams
Diagnostic tests
Puzzles, quizzes and tasks for homework and revision
Video analysis software
Subscriptions for teachers
Subscription and accounts for your department with access to all the above area PLUS
all our theory sections on the PE VLE
diagnostics for exams, lessons, homework
group analysis
question breakdowns
assessment submissions
sections for assessment, guidance and reporting
online support
weekly and monthly webinars
TO BOOK CLICK HERE